21 septembre 2020
1
21
/

09
/

septembre
/

2020
06:37
A first lesson about electricity is the occasion of a classic staging in the experimental tradition of physics teachers: A rod of ebonite is rubbed, a ball of elder hanging on his silk or nylon thread is attracted then strongly repulsed. Then begins a series of manipulations based on wool cloth, cat skin, glass rod or rule of synthetic material, supposed to reveal a fundamental property of matter: the existence of two kinds of electricity.
Progressing in the course we quickly arrive at the notion of electric current. This is where the "problem" appears. As soon as we have defined its conventional direction of circulation, from the positive pole of the generator to its negative pole in the external circuit, we must add that the electric fluid is, in reality, made up of negative electrons moving in reverse !

An explanation is needed. The busy teacher will evoke an old mistake. However, a brief return on the history of electricity would suffice to reveal, instead of hasty decisions, the obstinate search for a physical reality. Dufay is one of the first links in this chain.
Dufay (1698-1739) and the electric repulsion: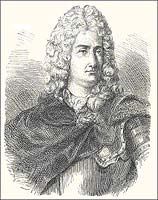 Charles-François de Cisternay Dufay is from a family of high military nobility. He himself entered the regiment of Picardy, at the age of fourteen, as a lieutenant. He took part in the short war in Spain and retained his military position until 1723, when he joined the Academy of Sciences as a chemistry assistant.

How can a 25-year-old jump from being a soldier to becoming a member of a prestigious science academy? To understand it, we need to say a few words about Dufay, the father.
This soldier had been educated by the Jesuits at Louis-le-Grand. He keeps, of it, a culture that he continues to enrich during his military campaigns. "The muses," he said, "heal the wounds of Mars." In 1695, the loss of a leg ends his military career. He returned to Paris where he devoted himself to educating his children and enriching a fabulous library. Charles-François will be able to cultivate his taste for science in the same time that his father teaches him the profession of arms.

At Dufay's we meet powerful characters. Like the Cardinal de Rohan who supports the young Charles-François when he applied for the post of chemistry assistant at the Academy, in 1723. Réaumur accepted this candidacy.
Dufay will make a point of honor to deserve this distinction. His early works are marked by unbridled curiosity. It goes from the study of phosphorescence to that of the heat released by the "extinction" of the "quick" lime. From the solubility of glass to geometry. From optics to magnetism. His energy earned him the title of Intendant of the King's Garden in 1732. It was not long after this promotion that he heard of Gray's work. He finally holds "his" subject. Electricity will give him the opportunity to implement a method whose rigor will be equivalent to that of Lavoisier, in the field of chemistry, half a century later.
Beautiful discoveries will be at the rendezvous. They will be the subject of a series of memoirs published in the History of the Academy of Sciences from April 1733.

The first of these memories is presented as a "History of Electricity". This text remains, even read in hindsight of nearly three centuries, an honest document. Before reporting on his personal contribution, Dufay chose to "put under the eyes of the reader, the state where this part of physics is currently". He wishes, he says, to give back to each one his merit and to preserve, for him, only that of his own discoveries. Above all, he wants to free himself from the obligation of having to quote, at every moment, the name of one or another of his predecessors. His project, in fact, is ambitious: he proposes to lay the first stones of a real theory of electricity. Most of the authors who preceded him, he said, "reported their experiences in the order in which they were made." His plan is different: he wants to classify their experiences in order "to unravel, if possible, some of the laws and causes of electricity."
A discourse of the method:
The second memory announces its method in the form of six questions.
It's about knowing:
Which bodies can become electric by friction and if electricity is a quality common to all matter.
If all the bodies can receive the electric virtue by contact or by approach of an electrified body.
Which bodies can stop or facilitate the transmission of this virtue and which are most strongly attracted to electrified bodies.
What is the relationship between the attraction virtue and repulsive virtue and whether these two virtues are related to each other or independent.
If the "force" of electricity can be modified by vacuum, pressure, temperature ...
What is the relation between electric virtue and the faculty of producing light, properties which are common to all electric bodies.
A beautiful program which will be carried out with remarkable rigor.
The first three questions concern the problem of the electrification of bodies and electrical conduction. We have already seen how Dufay interposed between Gray and Franklin to establish the first laws. The fourth question poses, for the first time, the problem of repulsion.
Repulsion joins attraction.
Since William Gilbert, and even since antiquity, electricity has been synonymous with attraction. Dufay is no exception to the rule and, in the introduction to his first memoir, he defines electricity as "a property common to several materials and which consists in attracting light bodies of all kinds placed at a certain distance from the electrified body. by rubbing a cloth, a sheet of paper, a piece of cloth or simply by hand ".
However, he was disturbed by one of the observations made by Otto de Guericke: that of the sulfur globe which repels the down that it first attracted. He admits that he never managed to reproduce it. On the other hand it meets success with a similar experience proposed by Hauksbee. It involves rubbing a glass tube held horizontally and dropping a piece of gold leaf on its surface. The result is spectacular:
"As soon as it has touched the tube, it is pushed up perpendicular to the distance of eight to ten inches, it remains almost motionless at this place, and, if we approach the tube by raising it, it also rises , so that it always remains in the same distance and that it is impossible to make it touch the tube : one can lead it where one wants so, because it will always avoid the tube " .
Even if the prowess achieved by the "electricity fairy" has quenched our thirst for the marvelous for a long time, the experience, even today, is worth trying. For this it is important to have the right glass tube. That of Dufay is of the type used by Gray and which has become a standard. It has a length close to one meter and a diameter of three centimeters. It is made in a lead glass. Gray and Dufay say nothing about how it was rubbed, perhaps simply by the very dry hand of the experimenter as recommended by several authors.
Having tried the experiment, I can attest to the importance of choosing the glass tube. A simple test tube will not work, much less the glass rod of an agitator (although this is how, since the 19th century, the experiment is described in the physics textbooks). Their diameters are insufficient. I have personally had success with the 50cm long neck of a pyrex glass flask extracted from chemical equipment. Dried well and rubbed using the first bag of "plastic" recovered, it gives spectacular results. Finding a gold leaf is not too difficult if you know a marble worker or a bookbinder. We can simply use a down or a few cotton fibers. For my part, I would recommend the plumes of a thistle picked dry at the end of the summer.
This experience shows that electrical repulsion is much more spectacular than attraction. The piece of gold leaf, the down or the thistle plume, which you will have released, will rush on the rubbed tube to be violently pushed back to thirty, forty, fifty centimeters, or even more. No one can be insensitive to the strangeness of such a "levitation".
Dufay gives these facts an immediate interpretation: "when we drop the sheet on the tube, it strongly attracts this sheet which is not electric, but as soon as it touched the tube, or that it has only approached, it is made electric itself and, consequently, it is repelled from it, and always stays away from it ".
But let's approach the finger or another conductive object of the sheet : it comes to stick on it to fall again on the tube and rise again.
Another simple explanation, Dufay tells us: "As soon as the leaf has touched this body, it transmits all its electricity to it, and consequently, being stripped of it, it falls on the tube by which it is attracted, just as it was before it touched it; it acquires a new electric vortex " and is therefore repelled. This explains the strange behavior, sometimes observed, of gold leaves dancing a saraband between the glass tube and a close object.
A simple remark: Dufay speaks of an electric "whirlwind". The theory of "vortices" is borrowed here from Descartes. For this each celestial body is surrounded by a whirlwind of subtle matter. These touching vortices keep the stars at a distance from each other and draw the whole into the clockwork movement that everyone can observe even if the cogs remain invisible. In the same way, the "electric" vortices surrounding two electrified bodies will separate them from each other.
Dufay's law.
Dufay then reviews previous observations and in particular those of Hauksbee concerning cotton threads tied inside a rubbed glass globe and which "extend in the sun from the center to the circumference." All these facts lead him to a first law of repulsion:
"It remains for constant, that the bodies becoming electric by communication, are driven out by those which made them electric".
Using this mechanism of "attraction - contact - repulsion" (A.C.R), Dufay elegantly explains a host of observations. However, the phenomenon needs to be explored further. In particular, the following question must be answered:
Will two bodies charged with electricity from two different sources also repel each other?
In seeking to verify this, Dufay makes electricity take a new leap forward: "this examination", he says, "has led me to another truth that I would never have suspected, and of which I believe no one 'still had a clue ".
The moment is important enough that we let him speak:
"Having lifted a gold leaf in the air by means of the (glass) tube, I brought a piece of copal gum (exotic tree resin of the legume family) rubbed and made electric, the leaf was applied to it on the spot, and remained there, I admit that I expected a completely opposite effect, because according to my reasoning, the copal which was electric had to push back the sheet which was also; I repeated the experiment several times, believing that I did not present to the leaf the place which had been rubbed, and that thus it only went there as it would have done to my finger, or to any other body, but having taken my precautions on this, to leave me no doubt, I was convinced that the copal attracted the gold leaf, although it was repelled by the tube: the same thing happened when the gold leaf approached of a piece of amber or Spanish wax (vegetable wax extracted from certain species of palm trees) rubbed.

Will two bodies charged with electricity from two different sources also repel each other?
In seeking to verify this, Dufay made a new leap into theelectricity science: "this examination", he said, "led me to another truth that I would never have suspected and of which, I believe, no one 'still had no idea'.
After several other attempts which did not satisfy me at all, I presented to the gold leaf repelled by the tube, a rock crystal ball, rubbed and made electric, it pushed back this leaf in the same way, so that I could not doubt that glass and rock crystal do precisely the opposite of copal gum, amber and Spanish wax, so that the leaf repelled by some, because of the electricity it had contracted, was attracted to others: it made me think that there were maybe two different kinds of electricity."

In a first time such a bold hypothesis frightens its author. If two electricities really exist, how have they not yet been pointed out! Many checks must be done. Dufay rubs all the materials at his disposal : we have to accept the facts, the phenomenon is general.
"There are therefore constantly two electricities of a different nature, namely that of transparent and solid bodies such as glass, crystal, etc. and that of bituminous or resinous bodies, such as amber, copal gum, Spanish wax. , etc.
Both repel bodies that have contracted electricity of the same nature as theirs, and instead attract those whose electricity is of a different nature from theirs. "
What more can be said ? The law of electrical attraction and repulsion is entirely in these two sentences. If we look for it in a contemporary textbook we find it practically in the same terms. It remains to name these two different electricities :
"Here then are two well demonstrated electricities, and I cannot dispense with giving them different names to avoid the confusion of terms, or the embarrassment of defining at any moment the one I would like to speak about: I will therefore call one vitreous electricity, and the other resinous electricity, not that I think that only bodies of the nature of glass are endowed with one, and resinous matters with the other, because I already have strong evidence to the contrary, but it is because glass and copal are the two materials which gave me the opportunity to discover these two species of electricity. "
Vitreous electricity, resinous electricity ... these two terms at least have the merit of proposing convenient standards. The end of Dufay's text is the beginning of a classification. In the register of bodies that present resinous electricity we find amber, Spanish wax, copal gum, silk, paper. Vitrous electricity appears on glass and also crystal, wool, feather ... but let Dufay present his finest example :
"Nothing has a more noticeable effect than the hair on the back of a living cat. We know it gets very electric when you run your hand over it; if you then get close a rubbed piece of amber the hair is strongly attracted to it, and we see them rising towards amber in very large quantities; if, on the contrary, we get close to it a glass tube, the hair is pushed back and lying on the body of the animal ".
Thus begins the long tradition of cat skins in the laboratories of our high schools.
After the fundamental discoveries by Stephen Gray of conduction and electrification by influence, the discovery of the two species of electricity opens up promising avenues. The conclusion of the dissertation expresses the hope of rapid progress.
"What should we not expect from such a vast field which opens to physics? And how many singular experiences can it not provide us which will perhaps reveal to us new properties of matter?"